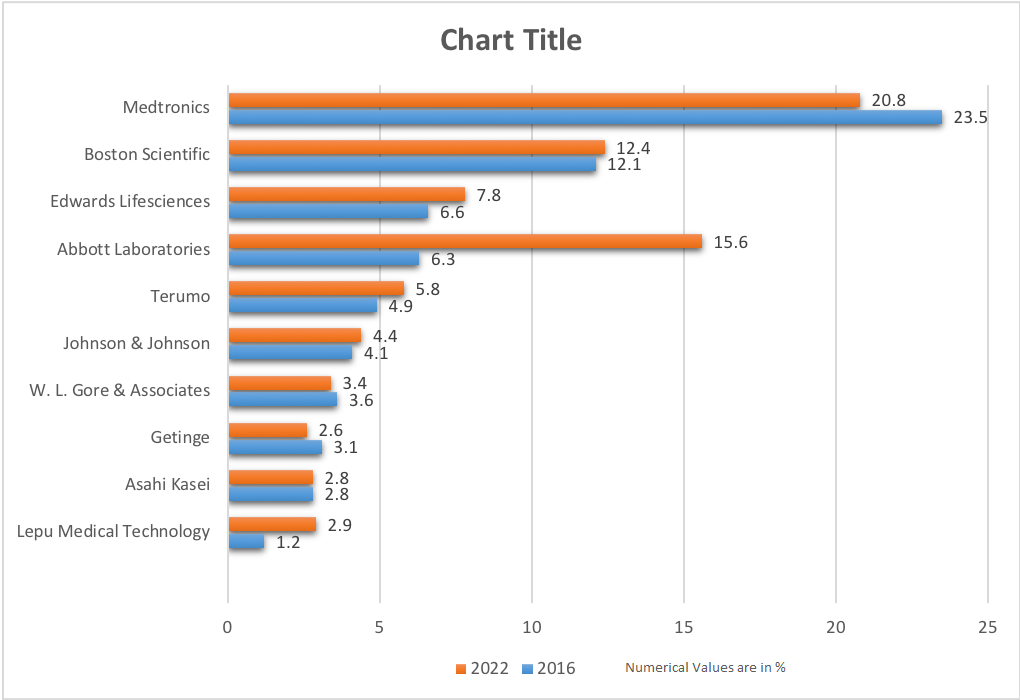 Medtronic :
Website: http://www.medtronic.com/us-en/index.html?intcmp=mdt_com_country_selector_dropdown_atlasr22016
Description: Started as a medical device company, Medtronic Public Limited Company, is headquartered in Dublin, Ireland. Fridley, Minnesota are its operational headquarters. As per below Bar graph, Medtronic holds the highest shares in the market to be called as world's leading medical equipment's development company.
At the time of its acquisition of Covidien in 2015, about $100 billion was its market capitalization. Medtronic operates in more than 140 countries. 85,000 people are employed by this company and has more than 53,000 patents.
Abbott Laboratories:
Website: http://www.abbott.com/
Description: Headquartered in Lake Bluff, Illinois, United States , Abbott Laboratories is a multinational health care company. The company was founded to formulate known drugs by Chicago physician Wallace Calvin Abbott in 1888; later on eventually grew to sell research-based medical devices, nutritional products and drugs.
Boston Scientific :
Website: https://www.bostonscientific.com/en-US/Home.html
Description: One of the marketer of medical devices is the Boston Scientific Corporation (Boston Scientific) which is a worldwide developer, manufacturer and whose products are used in a range of interventional medical specialties, including interventional cardiology, interventional radiology, peripheral interventions, neuromodulation, neurovascular intervention, oncology, electrophysiology, gynaecology, cardiac surgery, vascular surgery, endoscopy and urology.
Edwards Lifesciences:
Website: https://www.edwards.com/
Description: Edwards Lifesciences is the 4th highest market share holder American medical equipment company which specializes in hemodynamic monitoring and artificial heart valves. It is mostly known for a trans catheter aortic heart valve made of bovine tissue within a collapsible stainless-steel stent, deployed via catheter. An FDA-approved and verified device for percutaneous aortic valve replacement is their SAPIEN product.
Terumo:
Website: http://www.terumomedical.com/


Description: In the year 1921 Terumo Corporation was founded by a group of medical scientists led by Dr. Kitasato Shibasaburō to produce and develop medical thermometers in Japan.
"Jintan Taionkei" was the company's first product which was made available for sale, and it has since expanded into a medical devices manufacturer, producing cardiovascular systems, diabetes care products and medical disposables.
Johnson & Johnson :
Website: https://www.jnj.com/
Description: Founded in 1886 Johnson & Johnson is an American multinational pharmaceutical, medical devices and consumer packaged goods manufacturing company. This company is listed in the Fortune 500 list.
Headquartered in New Brunswick, New Jersey, Johnson & Johnson operates its consumer division in Skillman, New Jersey.
W. L. Gore & Associates:
Website: https://www.gore.com/


Description: The company specializes in products derived from fluoropolymers. Headquartered in Newark, Delaware, the company is headed privately. One of the known products manufactured by this company is the waterproof, breathable Gore-Texfabrics.
Lepu Medical Technology :
Website: http://en.lepumedical.com/


Description: The company was established in 1999. The company specializes in developing, marketing the high-tech medical devices and manufacturing equipment's. As of September 2017 Lepu Medical is one of the leading group company in the fields of cardiovascular interventions, cardiac rhythm management, critical care, structural heart diseases and anesthesia.
Asahi Kasei :
Website: http://www.asahi-kasei.co.jp/asahi/en/
Description: Asahi Kasei Corporation was established as a global Japanese chemical company. Its main products are materials science and chemicals.
Founded in 1931, the company is headquartered in Tokyo, with offices and plants across China, Singapore, Thailand, U.S.A. and Germany as well.
Getinge :
Website: https://www.getinge.com/int/
Description: Established in 1904 in Sweden, Getinge is a global medical technology company. The company manufactures and provides equipment's for healthcare services. The company was formerly organised in three business areas: Medical Systems (Maquet, the world's largest maker of surgical tables), Extended Care (ArjoHuntleigh) and Infection Control (trading as Getinge), but on March 20, 2017 all the three were incorporated under on brand name Getinge.